2009 July E-Newsletter
So much is happening, it's hard to know where to start! Since the launch of his latest book, Agenda for a New Economy: From Phantom Wealth to Real Wealth, David Korten has been fully focused on advancing the framework and the stories of a new, healthy economic system through his writing, interviews, and presentations. "The current crisis may actually be our best chance to bring a new economy to life," David writes in the Summer Issue of YES! Magazine.

Everywhere, navigators of the Great Turning and advocates of a New Economy are responding to the current crisis by engaging in conversations, taking action (like moving their money from large corporate banks to local banks and credit unions), and calling for our national and global leaders to break away from the giant clutches of Wall Street. Planning is underway for massive demonstrations and teach-ins in late November to mark the 10th anniversary of the historic Seattle WTO protests and bring attention to the WTO Ministerial session in Geneva and the UN Conference on Climate Change.

And, people are finding more ways to be in Earth Community - spending more time together, telling personal stories, supporting local Main Street businesses, eating food grown by local farmers, helping each other, and learning to live more simply.
Read on for a message from David about our work on the New Economy, a collection of stories about inspiring local Earth Community initiatives, links to great articles on the economy, and a Call to Action that will reverberate around the world!

We'll see you in the streets!
Kat Gjovik
Outreach and Communication
---
What's New?
The public outrage is understandable. Our government is attempting to recover from the collapse of the US economy by restoring a financial system that is inherently destructive for most of society, while families, small businesses, and communities struggle. David Korten explains why we've shifted our attention and resources to the New Economy story. Read David's message.
"Agenda" is Urgent!
In his review of "Agenda," A Bold Proposal for a New Economy, John Cavanagh, Director of Washington DC-based Institute for Policy Studies, writes, "The book is compelling, urgent, and easy to read. It will be a great tool to help harness the anxiety and anger gripping our nation."
David has appeared on Democracy Now! with Amy Goodman, PBS's NOW with David Brancaccio, Progressive Talk Radio with Thom Hartmann, and numerous other programs. For access to an assortment of articles and blogs that have also been picked up by widely read sites such as Common Dreams and The Huffington Post, visit websites for David Korten, The Great Turning Initiative, and YES! Magazine .
YES! Magazine Summer Issue Sizzles!
From Executive Editor Sarah van Gelder's interview with Rebecca Adamson, Age-Old Wisdom for the New Economy, and How Banks Make Money by Doug Phibel, to a series of articles on worker co-ops, New Economy, New Ways to Work, and 31 Ways to Jump Start the Economy, the Summer issue of YES! is a must read!
The companion Resource Guide provides extensive background, the Discussion Guide will jump-start many rich conversations about the economy, and the YES! Education Connection News provides an abundance of engaging and fun teaching tools to help students, young and not-so young, learn about money, banking, and real wealth.
While you're at it, check out the new design and explore the new features of the YES! website - it's hot!
Global/Local Days of Action - Nov 28 - Dec 5
Grassroots activists and organizations around the globe are planning local,

regional, and international actions and events to focus attention on the 10th anniversary of the WTO demonstrations in Seattle, the 7th WTO Ministerial in Geneva (Nov 30-Dec 2), and the UN Climate Change Conference in Copenhagen (Dec 7-18).
Three important actions you can take, now:
Read David's call to action - Seattle+10: Time to Declare Our Independence from Wall Street.
Research what is happening in your city; ask organizations, unions, activist groups, faith groups, students and others who care about the economy and climate change what they are planning; join - or start - a local organizing effort!
Join us on WiserEarth for an on-line convergence!

Compelling Conversations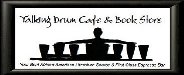 Many local groups have been inspired to convene discussion circles and book study groups about Agenda for a New Economy in community centers, churches, and bookstores. An eye-opening experience at the Talking Drum Cafe & Bookstore in an African-American neighbor in Portland became the catalyst for powerful ongoing conversations about the economy, race, and class; Cecile Andrews, author of The Circle of Simplicity: Return to the Good Life, convened a lively Voluntary Simplicity Study Circle in Seattle; and the Green Sanctuary Book Group discussion on Bainbridge Island, WA, was "the most engaging and impassioned of any." Read on...
Twitter and Facebook
Want to see what David thinks about the headlines? Check out dkorten on Twitter, and follow thegreatturning for updates on the latest news from our office. More than 500 people have joined the Facebook Group created in early 2008, The Great Turning: From Empire to Earth Community, and we recently created a Facebook Page for David Korten.
---
Earth Community and the Economy

Interestingly, but not surprisingly, the concept of Earth Community and messages of The Great Turning and Agenda for a New Economy particularly resonate with people on a spiritual path and/or who belong to a faith community. The Unitarian Universalists for a Just Economic Community (UUJEC) have taken on economic challenges with a number of practical community-based initiatives.
"Are you still allowing national/multinational banks to leverage your money for their own ends?" asks the Economic Justice Action Group (EJAG) in Portland. Read about their local banking campaign, Put Your Money Where Your Mouth Is, the Toolbox, and the First Unitarian Universalist Church in Columbus, OH, where "CommUUnity" is taken to a new level. Read more...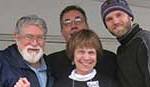 David Korten, Marcia Meyers and Jared Gardner (Portland)
and Michael Greenman (Columbus) at the UUJEC Retreat in April
---
Upcoming Events
October 14: Women's International League for Peace and Freedom (WILPF) in Des Moines, Iowa, host a discussion about Agenda for a New Economy with a collection of community book study groups, with David participating via the internet.
October 18-23: Praxis Peace Conference: The Economics of Peace, in Sonoma, California. David will present a keynote address on Monday evening, October 19. While in the area, David will speak at San Francisco State University and Berkeley Unitarian Universalist Church. (Check David's Calendar for emerging details.)
November 5-6: International Conference on Business and Sustainability, hosted by the Center for Global Leadership in Sustainability at Portland State University; details pending.
November 28 - December 5: Global/Local Days of Action, to mark the anniversary of the 1999 Seattle WTO protests and teach-in, and draw attention to the WTO Ministerial session in Geneva and the UN Conference on Climate Change in Copenhagen.
Check David's website for updates to his calendar.